History of the Railway in Gimli
First Train in Gimli
The Canadian Pacific Railway arrived in Gimli In 1906, after extending its tracks northward from Winnipeg Beach. Being the first train coming to Gimli, it was filled with passengers, many of whom bought their tickets way in advance to have the honour of being the first to ride the rails to Gimli.
With the arrival of the railway, Gimli experienced a boom in visitors. Some of the visitors enjoyed the area with its sandy beaches they bought property on the lakefront to build summer homes or cabins. The railway was great for local businesses with rooms in the hotels (The Como Hotel and the Lakeview Hotel) always filled with travellers and tourists.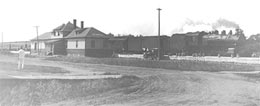 Train Leaving Gimli
During the early years, the train was making daily runs to Winnipeg in the Morning and returning in the evening. During the summer months two trains were making the daily runs to and from Winnipeg.
The old steam-powered train was replaced by a stainless steel diesel car Dayliner on April 25, 1955, which had room for 48 passengers, baggage, mail, and express, and could reach the speed of 130 km/h (80 mph).
Station House Located on the
Northwest corner of 7th Ave. and Centre St.
The Dayliner did not last to long and was replaced by a mixed freight and passenger train, which soon stopped taking any passengers at all. Most people found the daily bus trip more convenient.
The end was inevitable and the Gimli station was closed in 1972, and purchased by a local resident.