Early Medical Services
Dr. St. Claire Dunn
Julia Halldorson, Dr. Dunn, and Asta Jonsson
Dr. St. Claire Dunn was the first professional Medical Doctor to serve Gimli on a regular basis. He came to the community in the early part of the twentieth century, around the time when the railroad reached this area in 1906, and he established his practise in a small building north of the Lakeview Hotel on First Avenue (then known as Main Street). He also had a small drugstore from where he dispensed prescriptions. When telephone service came to Gimli, the first switchboard was located in Dr. Dunn's offices.
Dr. Dunn was interested in photography, and he took many fine pictures of Gimli, which were made into postcards. A few of of his excellent views of the village have been in the possession of Mrs. Kristin Johnson, now deceased, who was a well known photographer of Gimli from around 1914 until the end of her life. Some of these pictures are among the early views of Gimli. Like many photographers, Dr. Dunn did not have his own picture taken often. He is remembered with respect and affection by the older citizens of the town and district.
Dr. Dunn left Gimli to join the medical corps during the first World War, served overseas, and there lost his life.
After Dr. St. Claire Dunn left Gimli to go to war in 1915, he was followed here by Dr. Sveinn Bjornsson, who stayed until 1919, when he moved to Arborg.
Dr. Wilhelm Ganton came to Gimli around 1921, and stayed two years. During that time, one child was delivered by him, Wilhelmina Jonsson, now Mrs. Mabb, was named in his honour.
Dr. Shaw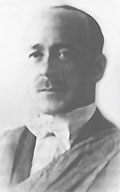 Dr. Shaw
When Dr. Ganton left, Dr. Frank Shaw came to Gimli, and served the community faithfully for almost 20 years, until he died in 1940. During the depression years, his pay was often in the form of cordwood or other commodities, if at all. Just when Gimli had a hospital, and times were improving, his health failed and he was unable to benefit from the improved conditions he had longed to see. Dr. Shaw married Hilda Gislason of Geysir, and they had two children, Donald and Ruth.
Dr. A. B. Ingimundson
Dr. A. B. Ingimundson (Gus), Gimli destist for over 40 years, grew up in Selkirk till the age of 16, when his family moved to Winnipeg. He took a year of Pre-Med at the University of Manitoba, after which he completed his education in dentistry at the University of Toronto. After two years of practice in Winnipeg, he set up his office in the old Greenberg store, in 1933. Later he moved to a small office adjoining the H.P. Tergeson Store, where he remained until the Gimli Medical Centre was opened in 1952.