History on H.P. Tergesen & Sons
Located on the Southwest Corner of Center Street and First Avenue, H.P. Tergesens is one of the oldest buildings in Gimli. It is the only business in Gimli, which has been continuously operated, by the same family since 1899.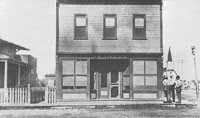 Early Photo of H.P. Tergesens Store
Owner Hans Pjetur Tergesen opened the store in 1899, originally having two stories, the upper story being used for living quarters until 1902. It also served as a Theatre, a Dance Hall and a Classroom. In 1929, after no longer in use the upper story was removed.
Svenn Johan (Joe) Tergesen, (son of Hans Pjetur & Sigridur) was a partner with his father and brother for 33 years, before he took the store over himself.
Terence (Terry), (son of Svenn Johan & Lara) purchased the family business in 1987.
Soren and Stefan, (sons of Terence & Lorna) ran the business together. After Soren died in 1991, Stefan took over the store and still runs it today.
Closer View of H.P. Tergesens
With business growing over the years, more space was needed and the store has almost tripled in size since the opening, although being a larger store its appearance has pretty much stayed the same inside and out.
The building became a heritage site in 1996, and still operates under the name H.P. Tergesen and Sons.